After being born in Sunderland Dominic Wilcox behaved as normal for approximately 18 years. He was 2nd best in his art class so on leaving school he decided that he should be a graphic designer because that seemed to be like an artist except you were paid a wage. He then did an Art and Design foundation course at Sunderland University. The Graphics section of the course was lead by a conceptual artist called Charlie Holmes. He showed Dominic books full of ideas, inventions and strange things. Dominic saw that there was more to art than painting pretty pictures of fruit or rolling hills. Since then Dominic has thought up his own ideas and strange things. To cut a long story short he did a degree, then an MA at the Royal College of Art and has since made many things that are exhibited all over the world and appeared in many books and magazines. He gets commissioned by people and organizations to think up interesting unique ideas and turn them into reality or he just spends time doodling in his sketchbook and making things that get him excited.
"I've convinced myself that within everything that surrounds us, there are hundreds of ideas and connections waiting to be found. We just need to look hard enough. Some of my ideas develop from observations on human behaviour and I express them through the objects I create. I also experiment with materials to try to find surprises that can't be found simply by thinking with a pen or a computer." —Dominic Wilcox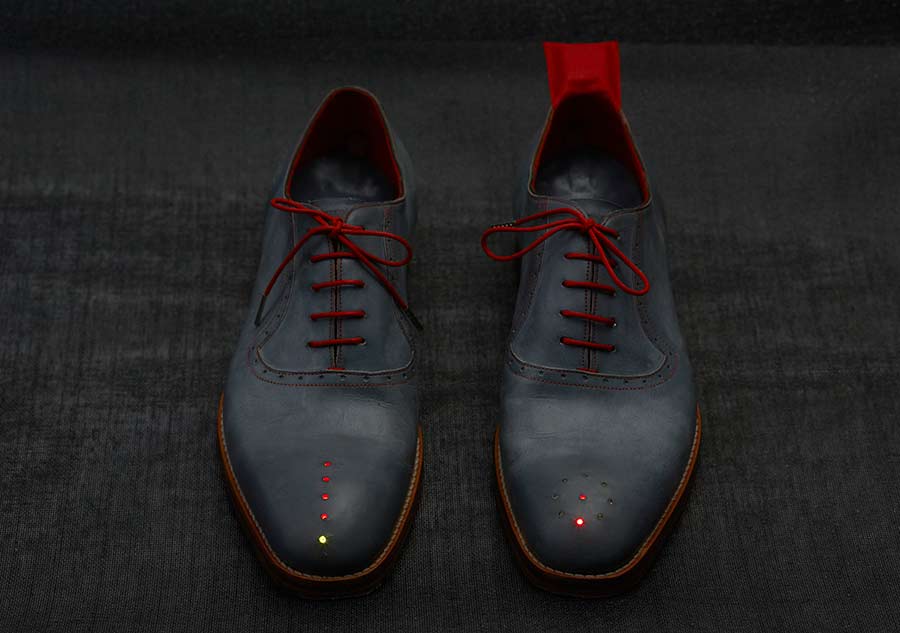 Recent projects include the design of a pair of shoes with inbuilt GPS to guide the wearer home, a Binaudios device to listen to the sounds of a city, a race against a 3D Printer at the V&A and a stained glass driverless car of the future.
Designer Thomas Heatherwick had this to say on Wilcox's invention drawings, "Dominic Wilcox's drawings aren't just witty and beautifully drawn, they are serious challenges to the real world to keep looking at itself with innocent eyes, wondering what else is possible."
In 2009 he started a Webby award nominated blog called Variations on Normal where he shows his sketchbook inventions and observations. He has received commissions from a diverse range of organisations such as Paul Smith, Selfridges, The V&A museum, BMW Mini and Jaffa Cakes.
Wilcox is also the brainchild of Little Inventors, a collaborative project with expert educationalists, designers and curators. Little Inventors takes children's invention ideas and makes them real. The aim is to inspire and support children around the world to use their wonderful imaginations to thinkup ingenious, fantastical, funny, or perfectly practical invention ideas with no limits! "Littleinventors.org is the central place for children to share their invention ideas with other children (and adults) across the globe!"
Little Inventors has become a worldwide project and Wilcox has made it his mission to inspire the world's children to come up with their own "extraordinary, ingenuous, or just plain brilliantly bonkers creations."